Providing healthcare benefits is an integral part of the employer-employee contract. So, employers continue to invest heavily in this benefit despite increasing costs. If this is the case, why have we yet to see growth in the onsite health clinic industry?
According to the U.S. Bureau of Labor Statistics, the cost of providing healthcare benefits now equates to about one-third of an employee's total compensation (with wages accounting for the remaining two-thirds). Yet even at this level of investment, many employers find that the current healthcare system isn't meeting employees' needs because:
Appointments are hard to find, with some specialties booking out months in advance

Doctors are stretched thin, and most have fewer than 20 minutes to spend with patients

Employees are busy, too, and find it hard to prioritize their health when they're balancing work, families, and life

Coordinating care is complex and challenging to navigate by oneself – especially for certain health conditions
As a result, many employers feel frustrated by their current options and are looking for alternatives. One option is to move away from the traditional healthcare model to something more personalized, like an onsite health clinic.
What's an onsite health clinic?
An onsite health clinic lets employers offer one or more health and wellness services – delivered by licensed practitioners – to all or a portion of eligible employees and their family members.
Clinics offer a range of services chosen by the employer based on their team's needs. The services can include wellness initiatives, mental health services, preventive care, acute and specialty care, and condition and disease management.
This option is becoming more popular with mid-sized and large employers because they help employers manage costs and help employees stay healthy, happy, and productive. Yet, despite these benefits, some human resource and benefit leaders are hesitant to explore onsite clinics because of some myths about how they operate.
3 (Debunked) Myths About Onsite Health Clinics
Over the last decade, NeoPath has talked to many companies about building onsite health clinics. Here are just a few of the myths we hear regularly.
Myth #1
– Building an onsite health clinic is cost prohibitive
Cost is always the first concern, and many companies worry that an onsite health clinic will increase their healthcare-related costs. Our role as onsite health clinic consultants is to frame the cost conversation in a broader context.
Employers are already facing steep costs due to healthcare premiums and expenses related to lost productivity from injury, illness, or chronic health conditions. And that won't improve any time soon. According to a recent survey by Mercer, total health benefit costs per employee eclipsed $15,000 in 2022, and employers expect another sharp increase of 5.4% in 2023.
NeoPath's onsite primary care clinics take a more sustainable approach to help companies cover employee healthcare costs. Equipped with NeoPath's consultation, trusted clinicians, and technology, you can reduce claims burden by:
Eliminating the traditional healthcare incentives that drive prices up (e.g., referral revenue quotas or test revenue incentives)

Providing personalized care that catches injuries or illnesses early

Gaining at-cost access to more than 200 medications

Reducing employee visits to more expensive specialists
Another cost-related option is to share the expense of an onsite clinic with another local business. In this model, you both (or all) contribute to the cost and split the management fee.
Myth #2
– Caring for employees onsite isn't the same as at a hospital or clinic
Another common question is whether it's possible to provide excellent healthcare onsite. The concern is that care won't go beyond a place to get quick physicals or complete other requirements for the job (e.g., immunizations).
At NeoPath, we believe excellent healthcare starts with building solid relationships. So, we staff and manage your clinic with highly skilled, board-certified medical professionals. Then, we structure staffing so that each visit is 30 or 60 minutes, depending on the patient's needs. And we top it off with facilities for onsite basic lab tests, diagnostics, and medication dispensing.
Our care focuses on prevention rather than managing symptoms. We can even support your employees with health-related services like wellness coaching, mental health support, or onsite fitness classes.
All of these services are delivered in person or have the option for virtual appointments if needed. This approach leads to stronger patient-practitioner relationships and better health outcomes than offering only virtual or telehealth services.
Myth #3
– Proving ROI and measuring success will be difficult
Measuring your success starts with establishing clear goals and a clear path. This is where our experience and defined process come in.
For example, some companies are worried that employees will hesitate to use an onsite facility due to privacy or other concerns. We've found that employees are busy managing their families, friends, careers, and commitments across industries. That means they're also looking for ways to save time and money.
An onsite health clinic gives employees a reason to be proactive and smart with their health. And we can help you design a facility that provides the best care and creates an environment your employees want to visit.
Beyond utilization success, we can also measure the following:
Talent retention and attraction – whether your clinic helps you retain existing employees and attract new ones (hint: it will)

Financial impact – as your employees get healthier, your total claims will decline
Our regular, customized reporting helps you understand what's working and why. We build metrics that are easy to understand and share in a simple operational dashboard.
---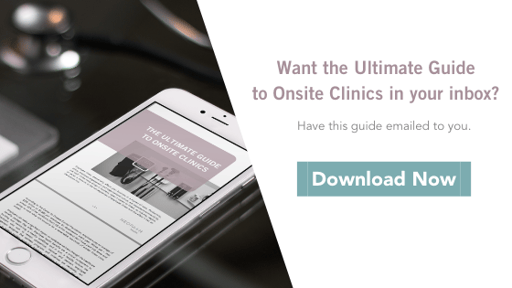 ---
What's good for employees is good for business
Companies may hesitate to go their way after years of working within the current healthcare system. That's why NeoPath has developed a detailed process addressing employers' primary concerns, including those covered here.
Our process starts by clarifying what's important to you and your team. Want to go all in? We can do that. Or we can start small and expand over time so you don't feel overextended.
Whichever route you take, our goal is to help you engage, empower and elevate your healthcare initiatives by investing in the actual well-being of your employees.
If you're considering adding an onsite clinic, NeoPath can help you tackle benefits structure, ownership structure, culture, retention strategy, physical space, and more. Let's connect.