Having productive, healthy employees is beneficial to your company in many ways. The programs and benefits you offer can directly contribute to these areas, for better or worse. Here are five workplace health benefits that positively impact employee health and wellness.
Financial Wellness Programs
According to a recent study, nearly half of American full-time workers say they spend work time worrying about personal finances. 29% admitted they manage financial issues on the job, and 46% said they do so up to 2-3 hours per week.
Want to learn more about supporting employee health ? Download our comprehensive guide.
Because financial stress is directly affecting employee productivity, workplaces are starting to step up to the plate to help. Solutions for this problem are growing in focus and popularity with more creative and helpful options becoming available on the market.
Traditional takes on this type of workplace health benefit is a 401K match or investing in your employees' futures by contributing to their retirement fund. More modern options include offering Health Savings Accounts that are either funded by the employer or include an employer match as well as Standard-of-Living raises.
Some additional creative options include:
Student loan repayment
Budgeting and credit debt assistance
Bringing in financial coaches to offer financial planning services
Flexible Work Schedule/Remote Work Options
Work/life balance and flexibility are so important to people that many are taking it into their own hands. Freelancing in America: 2018 found that more than 1 in 3 (35%) of the American workforce (or 56.7 million) are freelancing today. If the current rate continues, over half of the population will be freelancers within a decade. 77% of freelancers surveyed reported having a better work/life balance than they did when they worked in a traditional job.
If your company doesn't currently offer schedule flexibility or remote work options, now is the time to consider it in order to keep and attract the best employees. Additionally, 77% of employees consider flexible work arrangements a major consideration when evaluating future job opportunities.
Flexible work arrangements could mean offering a couple of no-excuse-needed additional PTO days or allowing employees to work longer on certain days in order to leave early on others. It can also be things like the ability to work from any location, offering a certain amount of time off per week or month, or even putting an unlimited PTO policy in place.
If you are concerned about productivity, the truth is that it can decrease issues like absenteeism and presenteeism. In fact, 78% of employees said flexible work arrangements actually made them more productive.
Nutritional Awareness & Choices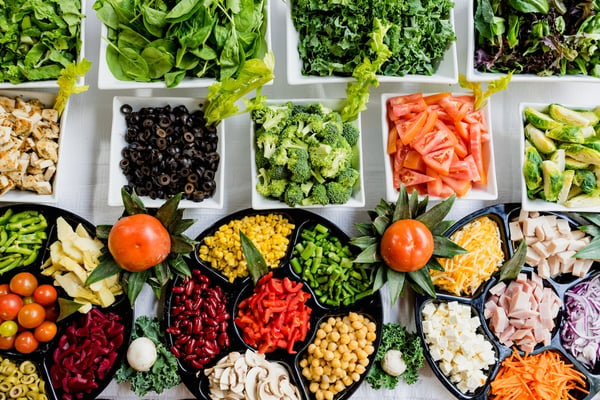 The majority of American workers tend to utilize a computer for all or part of their day, meaning they do a lot of sitting. This, along with the stress of a fast-paced, demanding work environment, has aided in the creation of extremely poor eating habits consisting primarily of "convenient," highly processed, high-fat foods.
It's fairly common for workplaces to offer some kind of vending or cafeteria options. However, to turn this into a real benefit for employees, nutrition-packed, healthy options should be available. One employer made it easy for employees to tell the difference in the nutritional value of the foods offered by color coding the options green, yellow, or red.
Many people simply don't understand the impact their choices are making on their health or they don't know how to start making better choices. Bringing in a nutritionist to offer classes or help employees come up with personalized plans could be a game-changer for your workplace health. Better eating habits lead to lower rates of obesity, higher energy levels, and in general, a more positive outlook.
Onsite Health Offerings
American employees work longer hours with less time off than any other industrialized country. This can make it extremely difficult to find time to seek out health services, especially for things like preventative care. Many people only seek out healthcare when they are extremely ill because they can't afford to take the time off otherwise.
For your employees, this means higher rates of chronic illness and stress. For employers, it means higher insurance costs related to high-cost facilities visits such as E.R.s or urgent care clinics instead of primary care physicians.
A great way to help employees take their health into their own hands is to bring the healthcare services directly to them. A Mercer study found that when employers offered an on-site clinic to their employees, 63% said they successfully reduced lost work days. Additionally, 58% claimed the clinic was successful in helping members control chronic conditions. Click here to learn more about the ROI of an onsite clinic.
Yoga, Massage, and Mindfulness
Operating under a constant high-level of stress can lead to chronic issues from anxiety or depression and can even raise risk levels for physical ailments such as high blood pressure or heart disease.
Stressed out employees tend to become unengaged, easily distractible, and sometimes even hostile toward their employers. Mental Health America found that 46% of workers reported "always" or "often" having difficulty concentrating in the workplace and being distracted from their work. More than 77% stated that they "always" or "often" spend between 31 to 40 hours a week distracted at work.
A growing trend in workplace health benefits is a focus on stress reduction and mindfulness practices in the workplace. This can be as simple as required break times where employees need to unplug and get up and leave their workspace.
Stress reduction benefits could include things like mindfulness apps that are provided by the workplace to help employees learn how to meditate during the day. This can also take the form of physical movement or relief through things like on-site Yoga or Zumba classes or bringing in a masseuse regularly.