You may have noticed in the news last year that Amazon and Apple were joining the ranks of behemoth companies opening their own healthcare facilities, or onsite clinics, for their workforce. The names on the list of companies that offer onsite clinics can seem almost a little intimidating... Tesla, 3M, Target. But, you don't have to have a big factory or thousands of employees to realize the benefits of an onsite clinic. In fact, there are many benefits to an onsite clinic that could uniquely impact your small to medium sized business.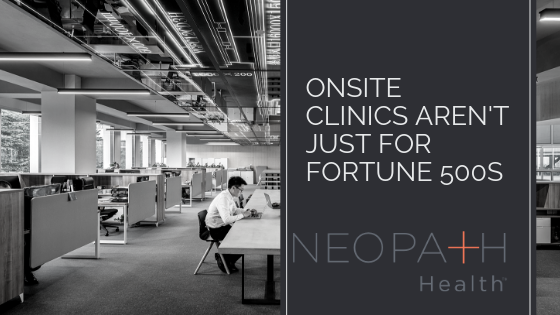 A Culture of Wellness
In a mid-sized company, a solid foundation typically resides alongside a shared focus on culture and values. In a company with thousands of employees, some of the original reasons the company was founded may be lost. However, for a company with under 1,000 employees, culture may be discussed as part of each hiring process and can probably be heard quite a bit in internal meetings and casual office conversations.
A culture of wellness is built when there is a top-down directive to ensure everyone in the company has access to education as well as facilities or tools to support their health and wellness. A survey by Willis Towers Watson found that in companies that offered an onsite or near-site clinic, 49% of their employees were encouraged to lead a healthier lifestyle. Having a healthy workforce can lead to higher productivity and cost savings from parting with negative habits surrounding poor health.
Recruitment
With the unemployment rate at its lowest in years, the job market is extremely competitive and employees are being picky about where they choose to work. Pew Research Center reported that Millennials took over the American workforce in 2016. "More than one-in-three American labor force participants (35%) are Millennials, making them the largest generation in the U.S. labor force." Another truth about Millennials is that due to factors such as massive college debt and high cost of living, they typically don't have a lot of emergency savings on hand.
Millennials are specifically looking for low cost healthcare offerings when shopping for jobs. In 2015, 74% of employers planned to offer high-deductible plans and 23% of them planned to make it their only option. This has been changing fairly quickly over the past couple of years as employers and insurance companies shift to fit the needs of the new majority, but something like an onsite clinic could be the thing that puts your company at the top of the list for a prospective, young employee. Here are some additional ways onsite clinics help with recruitment and employee retention.
Employee Satisfaction & Retention
As an SMB company, it's important to you to keep your employees happy, healthy, and productive. Some of the larger corporations may be able to easily handle the cost of turnover, but for a smaller business, each lost employee and new hire process can be quite costly and really hit you where it hurts, your bottom line. [Here are some tips on how to keep your workforce healthy.]
The Willis Towers Watson survey found that 52% of employees with access to an onsite or near-site clinic agreed that the wellness initiatives offered by their employer met their needs, compared to 26% without access to an onsite clinic. Offering services that meet your employee's healthcare needs may be a game changer for your company in your ability to retain your workforce.
Return on Investment
Corporations tend to have enough financial cushion to take risks and survive major losses, and even the impact of an investment with a large return isn't quite as powerful as with a smaller business. With the amount companies are spending on insurance plans, there is a ton of benefit to doing the care on site and a lot of savings that can be found. If you have 600-700 employees, the savings you'll realize from an onsite clinic are going to have a much greater impact on your bottom line than that of a corporation. One study found an organization saved $340,000 in one year, imagine what your SMB could do with that kind of savings.