Onsite clinics are gaining popularity in tribal communities because they improve a tribe's access to healthcare, which may lead to a healthier community. These clinics are located on or near tribal land to bring pharmacy, lab, imaging, acute care, and primary care to the community. A patient's cost for these services is often covered by the tribe, further reducing the barrier to accessing care.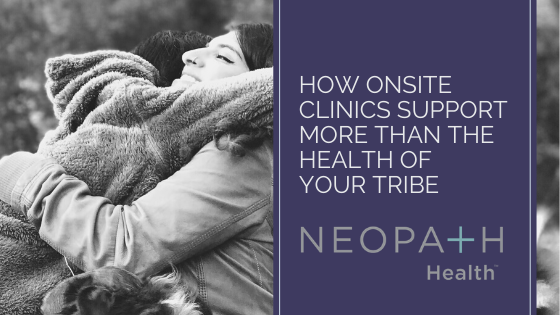 When your tribe can access healthcare without the typical barriers to access (proximity, cost), members are more likely to visit the doctor when they need to. Regular doctor visits help community members better manage chronic health conditions and identify new health concerns before they become emergencies.
The health benefits of onsite clinics are clear, but onsite clinics support more than just the health of your tribe. When you invest in an onsite clinic, you're making a crucial investment in your tribal community.
Onsite clinics prioritize relationships
When you offer an onsite clinic to your tribe, you help foster relationships between your community and the clinicians providing healthcare to your community. Onsite doctors and nurses dedicate time to getting to know the tribe, are culturally sensitive and respectful of tribal medicine practices, and can develop relationships with community members that go beyond diagnosing and managing health conditions.
See all the benefits to onsite clinics. Click here for the guide.
Community members that have had negative experiences in off-site, traditional health clinics often find that having clinicians dedicated to the tribe helps them regain the trust needed to visit the doctor again. The effects of these trusting relationships are far-reaching; not only is the community better equipped to manage their health, but they have someone they trust to turn to for advice and support.
Onsite clinics spur a culture of wellness
Onsite clinics also help tribes create a culture of wellness beyond the clinical setting. With greater access to healthcare, tribal communities start thinking about how they can bring healthy practices to other areas of their life. This adoption of health as a mindset can spur a culture of wellness across a tribal community.
Soon healthy habits begin permeating other areas of life with better nutrition, more exercise, and community initiatives. Some tribal communities start community gardens to grow fruits and vegetables, launch walking clubs to encourage movement, incentivize the purchase of healthy foods from the grocery store, and start meaningful conversations around mental health.
Onsite clinics can shift a tribe's culture to one grounded in holistic wellness. Not sure what type of wellness programs your tribe needs? Here are some tips to help you assess the needs of your specific community.
Onsite clinics show you care
When tribal leaders bring onsite clinics to a tribe, it demonstrates investment in the community. Community members feel cared for and respected, which impacts the tribe's attitude, culture, and mental wellness.
Feeling cared for is an essential psychological need, and onsite clinics demonstrate care, compassion, and commitment to a tribal community. When tribes implement onsite clinics, it shows that they're taking a step forward to improve the lives of community members. When community members feel supported, they're not only more likely to invest back into their community but also to invest in themselves.
Onsite clinics have the potential to improve a tribe's health — but they also support more than just the health of your tribe. Implementing an onsite clinic helps community members form trusting relationships with clinicians, promotes a culture of wellness beyond the clinic, and demonstrates that you care about — and are invested in — the wellbeing of the tribal community.