Our Healthcare Heroes come from all walks of life. Their stories are always so inspiring, and the work they do so important. Common among all the heroes is their passion for helping others, making a difference, and providing the best care to patients possible. We are so fortunate to have them as part of the NeoPath healthcare family.
Neo\Path Healthcare Heroes is a way for us to recognize all of our healthcare professionals and say thank you to the heroes that sometimes go unthanked- the ones who ensure patients get the care and attention they need and deserve. Healthcare and NeoPath wouldn't be the same without them!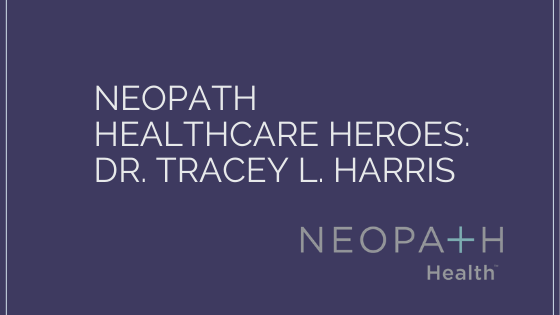 This month's honoree is Dr. Tracey L. Harris, DNP, APNP, FNP-C! Dr. Harris is the Family Nurse Practitioner at our Cedar Ridge Health Center. She has worked in healthcare for over 30 years, and like so many of our heroes, her healthcare journey started early in life. She began by working as a Certified Nurse Practitioner (CNA) after graduating from high school, as she had an interest in healthcare but didn't know exactly what she wanted to be.
Related Reading: NeoPath's Healthcare Hero: Tammy Harthun
Dr. Harris' "Why"
When asked about her "Why," Dr. Harris said, "It was after doing a missions trip to South America (Ecuador), where I perfected my fluency in Spanish and found my passion. I saw many people suffer, and some even die due to no access to healthcare and unsanitary living conditions. It was then that I decided to start my career in nursing."
She went on to tell us that she worked as a registered nurse for 20 years in various areas before taking a terrifying leap of faith and going back to graduate school at the age of 40 to become a family nurse practitioner and receive a Doctorate of Nursing Practice in 2016. "I have a heart for people. This is my gift and God's calling for me. I have found a profession and organization that values and encourages my heart for people. It is a profession that allows me to share my gift and help others, but the amazing part in all of it is how much more this profession blesses me."
"While I could sing her praises all day, and do to anyone who will listen, her patients' words really speak to the heart of who she is as an exceptional Provider who understands the importance of caring for the whole person," said Katie Halsne, RN, Director of Clinical Operations at NeoPath Health. "Whether she is interacting with colleagues or with patients, she leads with positivity and love. Her patients can truly become their healthiest, happiest selves with her partnership, guidance, and support; what a beautiful gift she gives to each of them!"
Here are a few quotes from Dr. Harris' patients:
"Tracey is an amazing provider. Everyone you talk to that goes to her loves her. Very caring, sits at eye level, and talks to you. You can tell she loves her job. Always look forward to seeing/talking with her."
"My experience at Cedar Ridge was so much more personal than any other clinic I have ever visited. The staff is friendly and personal, and they respect your concerns and input. I appreciate their speed and professionalism. Overall I left feeling cared for rather than run through a system. Thanks for everything you all do."
"Tracey went above and beyond with patient care! I have never been treated better by a facility, let alone a provider!! I am so grateful for the care she gave me. I cannot say enough great things about her or my experience. I will never hesitate for care again!"
"Dr. Tracey Harris is the best!! My whole family loves her. She is very knowledgeable and caring. She explains things so well, and it helps alleviate fear and stress over procedures and diagnoses. We hope she stays here forever."
The Best Part of Dr. Harris' Job
When asked what the best part of her job was, Dr. Harris said, "I have a heart for people, and the best part of my profession is to be able to share that. Healthcare is such an intimate relationship, and I am always amazed when people have the courage to be vulnerable and share their hearts with me. My profession allows me to laugh and celebrate with people and cry and grieve, and all of it helps build relationships."
Dr. Harris' Real-Life Hero
This was a tough question for Dr. Harris, as she has had so many people throughout her life that have encouraged her and helped her become the person she is today and achieve her goals. "I would say first would be my mom. She was a single mom raising three children and always taught me to be kind, work hard and never give up on my dreams," she said. "In more recent years, my life has been touched and forever changed by a couple: Dale and Ginger. Dale was a provider I worked with during my nursing days, and he is the one who relentlessly encouraged me to become a nurse practitioner. It took him a couple of years, but when I finally took the steps to begin this journey, Dale and Ginger gifted me with a very generous scholarship to help me begin this journey. I was not family, just a co-worker he knew for a handful of years. Who does that? HEROES! Ginger also sent me a card in the mail every single month for the entire three years of my graduate program! Her cards were full of humor, and they made me laugh and cry all at the same time! I am forever grateful for Dale and Ginger and for their superhuman encouragement!"
Congratulations, Dr. Harris! We can't thank you enough for all that you do for your patients, your team, and healthcare as a whole. Thanks for being our real-life hero!