NeoPath Healthcare Heroes is a way for us to recognize ALL of our healthcare professionals and say thank you to the heroes that sometimes go unthanked- the ones who ensure patients get the care and attention they need and deserve. Healthcare and NeoPath wouldn't be the same without them!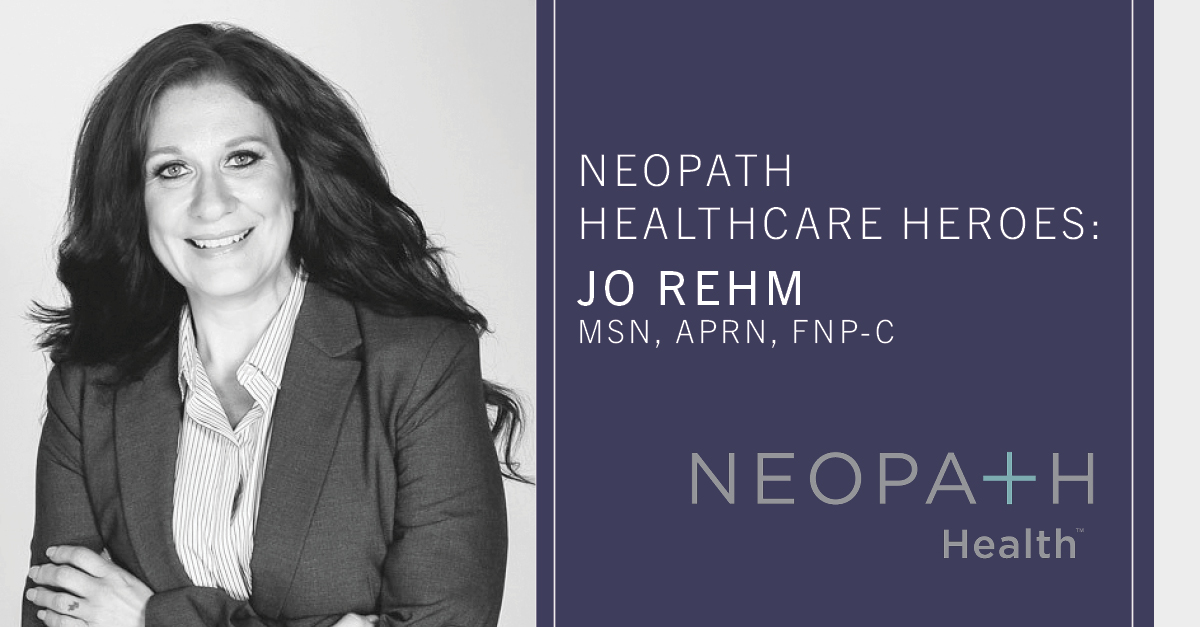 This month's honoree is Jo Rehm, MSN, APRN, FNP-C. She's a Family Nurse Practitioner working at Prairie Island Health Center who has lead the COVID-19 vaccination efforts since January 2021. Jo has worked in the healthcare field since she started as a Certified Nurse's Aid 34 years ago.
Jo's "Why"
Healthcare has always been a significant part of Jo's life. She cared for her mother, who passed away from lung cancer when Jo was just 16 years old. "Since then, I have always felt a calling to the medical field," she explains.
Jo found working in nursing homes as a Certified Nursing Assistant rewarding but longed for more. She put her nursing career on hold when she started a family. But when her last child was born in 1997, she began nursing school. Jo said, "Having four children under the age of six and starting college at the same time was very challenging. Yet, somehow we managed."
She started her nursing career in a rural, critical-access hospital. There, she learned all areas of the hospital, which really expanded her knowledge base. After working there for more than 12 years, Jo returned to school again to finish her Bachelor's Degree and, much to her surprise, ended up completing a Master's Degree as well.
"I truly feel that had my life path not allowed me to care for my dying mother, I wouldn't have fully completed my dreams of remaining in healthcare."
The Best Part of Jo's Job
Jo is quick to share that the best part of her job is helping people and giving back to the community. She said, "I have held the hand of a woman bringing life into the world, and I have held the hand of many people leaving the world. Both are an honor in so many ways."
Jo's Real-Life Hero
Like many of the people we've featured here, Jo's real-life hero is her mom. "She was a strong, independent woman who was very driven," said Jo. "Even though she had a lot of obstacles to overcome in her life, she always overcame them."
The motivation her mom provided still propels Jo to be better in both her personal life and her career.
Congratulations, Jo! We can't thank you enough for all that you do for patients, your team, and healthcare as a whole. Thanks for being our real-life hero!